• Canadian Flag • Cancel Culture • Christopher Dummitt • Colony to Nation Myth • Conservatism • Dominion • Donald Creighton • Eugene Forsey • Judith Robinson • Men and Ideas • New Democratic Party • Red Ensign • Westminster System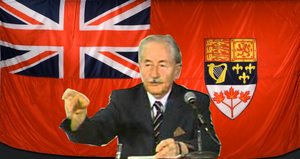 Eugene Forsey believed French and British glory were Canada's glory, writes Christopher Dummitt, with a Burkean anti-revolutionary idea of history and an abiding faith in the impartial and benevolent state. Originally published in The Dorchester Review print edition, Vol. 4, No. 2, Autumn-Winter 2014, pp. 9-12. THERE WAS A TIME, not so long ago, when those who were proud of Canada's British traditions weren't only conservatives. Labour activists and socialists, Liberals east and west, once spoke naturally of Canada's place in the British Empire and Commonwealth. No longer. In 2014 the Harper government was accused of creating a new nationalism by harkening back...
---
• Canada • Charter of Rights and Freedoms • Judicial Activism • Judiciary • Supreme Court of Canada • Westminster System • Y. Y. Zhu
O
ther countries

 
have public intellectuals; Canada has Supreme Court judges, writes Y.Y. Zhu 
in the forthcoming issue of The Dorchester Review
.